It's true I finally have the world wide web back in my household. Things are nice, besides all the random boxes, styrofoam, and squeaky cabinet doors, things are really really nice. None of it feels totally really to me just yet, but I think thats because I am still in start up mode. I did how ever get one new addition to the household ...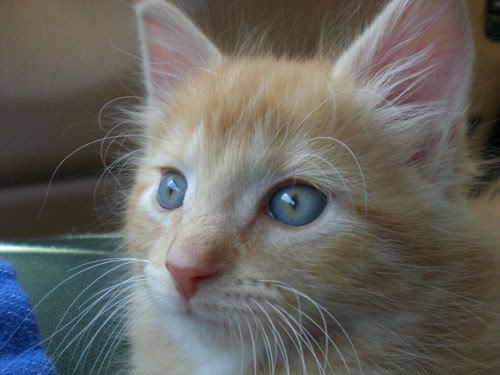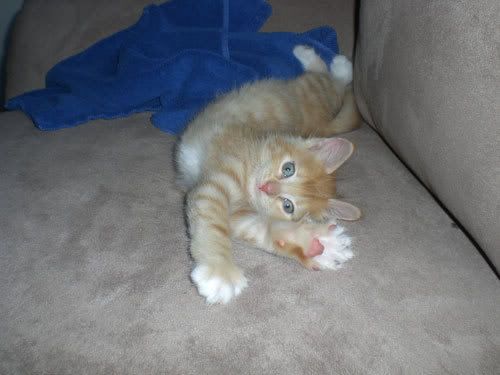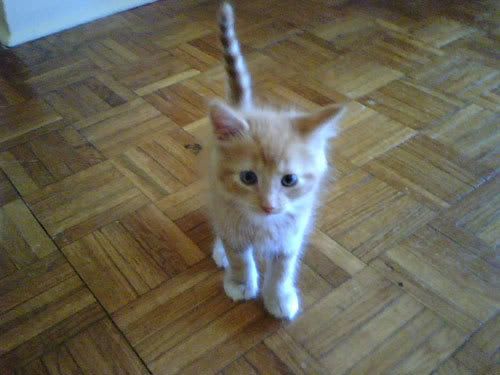 His name is Fritz! Fritz Pablo Wortmann-Smith! We got him at Target when alittle girl was giving away free kittens because her cat had a litter. He is now 9 weeks old and so much fun! I've never had a real pet to call my own and now I do! My Mom always told me I could have as many pets as I like once I moved out of the house & got my own place. Well, look at me now Margaret!
Besides being super crazy busy and always running around, I found sometime to work on invitations, purchase some center pieces, design cocktail napkins & found a dress for the wedding shower in Texas & maybe even the rehearsal dinner. I am still looking for table linens, which as proven to be quite costly, and I also have a baker in the works and maybe even an officiant. Today Barb and I are going to order bridesmaid dresses ( I'm way behind! ) & I am gonna try and pick up my desk & chair from Kinnelon. Tonight I am going to hangout with my brother Kelly! I haven't seen him in almost 3 years, at least not since Maw-Maw died and that will be 3 years in August. Not seeing each other for long periods of time is some what normal for our relationship but we've always had a good relationship and I hope to keep it that way. So much has happened since we last saw each other, I moved to Jersey, he had a baby, I got engaged, he bought a house! He has yet to meet Pete & I am excited for that meeting tonight and I am excited to show him the city! It's going to be a good visit, I can feel it!
Now, shower and brush my teeth ...