Aidan Dietrick Wortmann entered the world on Thursday! July 24th 2008! It was truly an amazing experience and he is sooooo beautiful!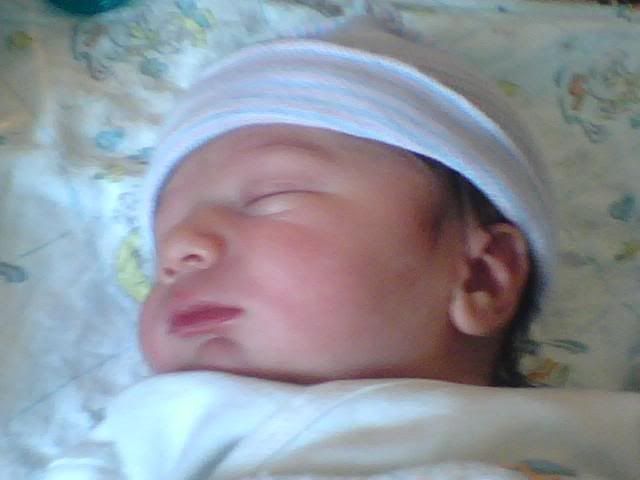 However, I cannot lie, it does make me feel the "want" to have a baby. Between all my friends on Facebook having babies and seeing Aidan yesterday, the mama in me is peeking through! Pete and I have no plans to have a baby anytime soon but after seeing Aidan, we both can't wait to experience such great love!
Other news, I was promoted at work last week! I am now a full-time make-up artist for MAC Cosmetics. Part-time wasn't cutting it and this is going to be such a nice relief on the bills. MAC is by far the best cosmetic line I've worked for and the most satifying as well. It's just nice to be respected for my talent, be busy with customers and really perfecting my craft. I'm surrounded by so maybe talented artist that it has only made me better and love my job even more. As far as the Bella Pictures goes, I really do enjoy it but just doesn't seem to be worth all the extra effort and time that I've had to put in. I am going to cut my availability for meetings way down in the month of August to see if that helps alittle. I suppose I am disappointed because I don't want to quit because I do enjoy meeting the brides and talking wedding. But at least I have a job and now that I am full-time I feel alittle more secure about our money situation.
Also, I recently came in contact with my half-brother, Johnny. God Bless Myspace! If you didn't know that my Dad wasn't my biological father, now you know! On my bio-logical father's side, he had 3 kids before me, 2 brothers and a sister. It is all very exciting but at the same time very overwhelming, but I really feel like there is a purpose to all of this. At first I was alittle nervous that I opened a can of worms but I've been pleasantly surprised that they are just as curious about me, as I've been about them all these years. Not to say that the family I knew before this wasn't good enough, but now it's just extended! I feel that only good can come from this!
I think I've mentioned this before, but I am thinking about going back to school. Yet, again! I want to go back for what I should have always done 5 years ago, Teaching. I am not sure about what I would want to teach but I am leaning towards Jr. High or High School, maybe History?! Everything in my life seems to be pointing in that direction and I feel some what peaceful that even know I am very unsure on how I am going to go back to school or even pay for it! I feel at peace, as if I have finally realized what I am good at, and what I want to do. I love doing make-up and make-up will always be apart of my life from now on, however I feel that maybe MAC is going to be my way to get to the ultimate goal. I've always tried to be someone else and run away from what comes naturally to me but this time I am gonna grab a hold of what I know in my heart is what God has for me.
Lastly, I saw this verse tattooed on the bride I met today ... Galations 6:17 " From now on, let no one make troubles for me; for I bear the marks of Jesus on my body." ... I've thought to tattoo a couple of bible verses on my wrist, but I've waited because I feel that wrist tattoos can be kinda trendy now a days, but this verse really struck a cord with me and has me thinking ... : )
That's quite enough for now dontcha thing?! I am so cool to be blogging on a Friday night. But I am excited to get to bed and cuddle with Petey Pie!<3